Den här fina sidenscarfen har kommit till mig från andra sidan jordklotet. Självklart är det den magnifika konstnären Caitlin Shearer som har skapat den. Scarfen är tryckt med hennes vackra illustrationer med flickor. Den här kommer jag ha runt halsen, håret och alla andra sätt jag kommer på. Jag beställde den härifrån.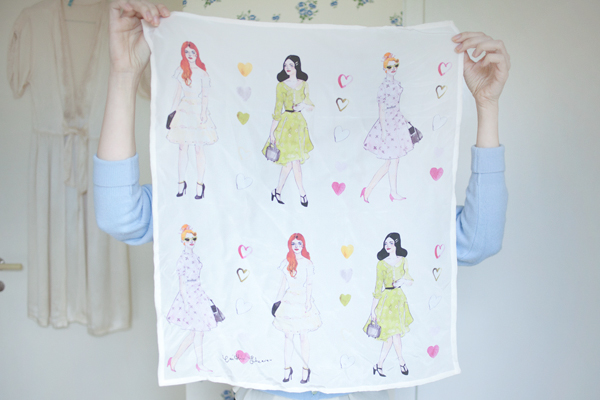 Ni som följer min VP på Facebook har sett att jag har en månads paus från Facebook – men även också de flesta andra sociala medier (Instagram, andras bloggar osv). Jag känner att jag behövs och vill vara någon annanstans just nu. Sluta blogga här kommer jag däremot inte att göra!
Det blir min fortsatta lilla dagbok och jag hoppas ni fortsätter att läsa.
Ikväll tänker jag titta på filmen till denna låt – Marcy's Song. Den heter Martha Marcy May Marlene.
Translation:
Last week I received this lovely silk scarf that I have ordered from Caitlin Shearer. The Sunday Stroll Silk Scarf is beautiful illustrated with Caitlin's girls. One girl is a ginger and I imagine that it is myself walking around. Can hardly wait for all the spring picknicks when I am going to wear this.
Tonight I will watch the movie for this song – Marcy's Song.